"The Masquerade" Escape Room in Varna
Are you ready for one of the best and highly ranked Escape Room in Varna?
This is the English version of our page. Here you can book a game, as well as learn more about our escape room game. ❒ За български натисни тук.
ABOUT THE ROOM ❖ BOOKINGS ❖ WHERE TO FIND US ❖ PRICES

ABOUT THE ROOM: "THE MASQUERADE OF SURPRISES"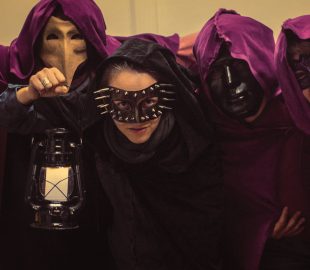 As of 2023, "The Masquerade of Surprises" is one of the best and highly ranked escape rooms in Varna, Bulgaria. A great variety of original puzzles will help you escape the reality. Although it's not an easy one, we believe that the room is logical and everything makes sense.
You will be introduced into an interesting plot about a Venetian ball, and then locked in a room with antique and mysterious atmosphere… A room full of secrets!
"You and your friends are at a masquerade ball in Venice hosted​ ​by​ ​a​ ​mysterious​ ​host.
While the party and the night are progressing, you felt a little bit bored and decided to browse through the ancient mansion. Walking through the premises you accidentally discover​ ​a​ ​secret​ ​room.
And now, driven by your curiosity, you enter the room to​ ​see​ ​what's​ ​hidden​ ​in​ ​it…"
So: can you escape? Accept the challenge, use your logic and teamwork to find out!
What makes the room even more unique is:
2 difficulty levels – you can choose between Normal and Hard;
66 minutes of play – you have 6 minutes bonus;
stylish requisite available for photos and fun.
[↑]
---
BOOKINGS
We work only with reservations in advance! Use our bookings system below. Pick the day & hour that are free and suit you (green is free, other colors are already booked or not available), then fill all fields correctly.
Remember: each playing hour is available to be booked until 4-5 hours before that. For example, if you want to play in 18:30, you need to book that particular hour before 13:30 (after that it will become unavailable for selection).
However, if you want to play sooner and your preferred hour is unavailable, you can also check for availability by phone: +359 876 488 276.
To play, speaking English (or Bulgarian) is a must!
Children in the room must be at least 10 years old, and accompanied by an adult(s).

Important!
Upon successful booking you should recieve an automatic confirmation by e-mail.
You need to come around 10 minutes before your booked time for brief instructions and photos with our requisite (you don't wanna miss them!). Please don't be too late, but don't come too early either – since we have a strict schedule and the room may still not be ready for your game.
If you are late or unable to show up for your booked time, please inform us as soon as possible! This will give us time to respond to the situation. Thank you!
[↑]
---
WHERE TO FIND US
Escape House is located near the Cathedral, Central Varna.
Address: Varna, Bratya Shkorpil 21
(entrance through the yard).

Keep in mind that we are open only for reservations made in advance!
You can also contact us using the following:
[↑]
---
PRICES
Please note, at the moment we accept payment only in cash. We don't accept card (debit or credit) payments. Thank you for your understanding!
The standard price for this unique, one-time activity is 25 LEVA for each player – a little bit more than a cinema ticket, but way more special and memorable experience with friends! 🙂
[↑]